The Council of American Master Mariners, Inc.
The Council of American Master Mariners, Inc.
Lalonde Spirit of the Seas Award
2017 Recipient Father Sinclair Oubre
Father Sinclare Oubre Accepts the Lalonde "Spirit of the Sea" Award from
presenter Captain Pat Moloney, the 2015 recipient,
at the Closing Dinner of CAMM's Annual General Meeting on April 21, 2017.
The Council of American Master Mariners presented the Lalonde "Spirit of the Seas" Award to Father Sinclair Oubre (CAMM # 3220-A). He was introduced by Captain Pat Moloney, the 2015 Lalonde Award winner. In his introduction, Captain Moloney stated that this award usually goes to a Master, so this year's winner is outside the norm. He said that Father Oubre, "Navigates the spiritual track that most of us do not take." Father Oubre has taken the lead in an effort to Canonization Captain Lenard LaRue. Captain Moloney continued, "He has his work cut out for him. I can think of some Fisherman that made it to sainthood but not a ship's Captain?"
Father Oubre is the Diocesan Director of the Apostleship of the Sea overseeing long term development and fund- raising and has been active in maritime ministry. He was on the Merchant Marine Personnel Advisory Committee to the United States Coast Guard (MERPAC), as a Merchant Mariner Member appointed by Leon Panetta and is the Executive Director of the Port Arthur International Seafarers' Center. Father Oubre is a priest of the Diocese of Beaumont and currently serves as Pastor of St. Francis of Assisi Catholic Church, Port Arthur, Texas. He holds an AB-Limited Certificate and is a member of the Seafarers International Union and is a member of the Nautical Institute. Since 2007, he has been the Chaplain of the Council of American Master Mariners.
Lalonde Spirit of the Seas Award - History
The Father Maurice Lalonde Spirit of the Seas Award is the highest honor that the Council of American Master Mariners can give its members. It is named for one of our members, Captain/Father Maurice Lalonde. Father Lalonde, in his early career, graduated from the New York State Maritime Academy and served as a Naval Officer in WW II. He then went back to sea as a civilian mariner, sailing in all deck officer billets, including Master Mariner. He then came ashore and studied for the Catholic priesthood. After his ordination, he went back to sea for awhile and donated his salary to his priestly order. He again returned ashore and spent most of his remaining career as a foreign missionary. He obviously is a man of a tremendously giving nature. The recipients of this award represent this kind of overall selfless spirit.
Past recipients are:
2017 Father Sinclair Oubre
2016 Captain John A.C. Cartner
2015 Captain Pat Moloney
2014 Captain Don Moore, Jr.
2012 Captain Tim Brown
2011 Captain Tom Bradley
2010 Commodore Kenneth Orcutt
2009 Captain Charles "Chick" Gedney
2007 Captain James Morgan
2006 Edward Frank Oliver
2005 Captain Dominick Calicchio
2004 Captain Warren Leback
2003 Radm Thomas J. Patterson
2001 Captain Lawrance Welsh
2000 Captain Ray eisenberg
1999 Father Maurice Lalonde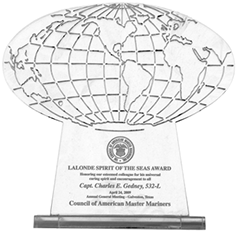 Lalonde Spirit of the Seas Award - Nominations
Nominations for the Lalonde "Spirit of the Seas" award open in September and is awarded at the National Annual General Meeting the following spring.
The Lalonde "Spirit of the Seas" Award is the Council's most distinguished honor. The award is made annually or as deemed appropriate by an Awards Committee comprised of the National's five Regional Vice Presidents and Ex-Officio National President.
Nominations are open to any member, living or deceased, for all of the following: humanitarianism, professionalism, seamanship, life-time achievement and noteworthy accomplishments, along with contributions to the maritime industry and the 'Spirit of the Seas' in their everyday lives. An eligible nominee may be a member in any category of the CAMM National organization in good standing (who is/was current in their dues to CAMM National and to their chapter, if they were also chapter members). Individuals must be nominated by a CAMM National member who also is in good standing.
For additional applications, information or guidelines and rules, contact your Regional Vice President or your Chapter President.
All nominations must be postmarked by January 15.
Lalonde Spirit of the Seas Award - Winner Notification and Acceptance
The winner will be notified in advance by the Lalonde Review Committee. If nominee is the winner, he/she must make every effort to attend the annual meeting Closing Dinner. Because of the prestigious nature of this award, the winner's Chapter should be an enabler to encourage and assist winner to be present to receive the award in person. If because of poor health, the winner can't attend please list their designee (show name & ID number) who will accept the award in their behalf.