2012 Recipient Captain Tim Brown
Captain Tim Brown #1494-R, a charter member of the CAMM Tampa Bay Chapter, was instrumental in the formation of the Tampa Chapter, culminating with the issuance of the charter in 1989.
Captain Brown embarked on his maritime career in 1961, when he entered the United States Merchant Marine Academy at Kings Point. After graduating in 1965, he sailed as deck officer, including Chief Mate, on various vessels carrying vital military supplies to U.S. forces in Vietnam.
He sat for and received his Unlimited Master's License in August 1970, five years to the day that he received his original Third Mate's License.
From 1970 to 1974 Tim sailed part time while he attended Graduate School at the University of South Florida in Tampa, and at the University of Pennsylvania. In the winter of 1974 he received a Master of Science degree in Accounting, and a Master of Business Administration degree specializing in Labor Relations from the prestigious Wharton Graduate School at the University of Pennsylvania.
In 1975 Captain Brown returned to sailing full time, starting as Chief Mate with Puerto Rico Marine. In 1978, he started sailing with SeaLand as Chief Mate. His first command was the S.S. SeaLand Consumer in 1983. He remained with SeaLand until 1991.
Captain Brown is currently serving his fifth term as IOMM&P President, an office he ran unsuccessfully for twice, before finally winning the office in 1991, a position that he still holds today, 21 years later. Captain Brown serves as chairman for all IOMM&P Trust plans.
Captain Brown has devoted a great deal of his energy these past 14 years to explaining the advantages of a U.S. Merchant Marine to the American public at large and to policy makers in Washington. While doing this, he has managed to strike a delicate balance between the interests of organized labor, American shipping companies and the maritime industry.
Significant milestones in Captain Brown's maritime career occurred when he was recognized by the United Seaman's Service as an individual who distinguished himself by his outstanding efforts in promoting the American Merchant Marine. He was made an Admiral of the Ocean Sea at their annual AOTOS awards dinner in New York in November 2002, and awarded the silver Christopher Columbus Statuette. In May 2009, he was inducted into Maritime Hall of Fame at the U.N. for exemplifying the qualities of futuristic thinking that will guide the maritime industry in the 21st Century.
Captain Brown is a member of many organizations, including Boston Marine Society and New York Marine Society.
History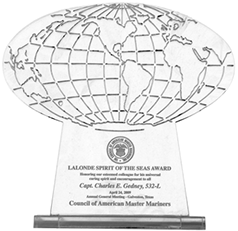 The Father Maurice Lalonde Spirit of the Seas Award is the highest honor that the Council of American Master Mariners can give its members. It is named for one of our members, Captain/Father Maurice Lalonde. Father Lalonde, in his early career, graduated from the New York State Maritime Academy and served as a Naval Officer in WW II. He then went back to sea as a civilian mariner, sailing in all deck officer billets, including Master Mariner. He then came ashore and studied for the Catholic priesthood. After his ordination, he went back to sea for awhile and donated his salary to his priestly order. He again returned ashore and spent most of his remaining career as a foreign missionary. He obviously is a man of a tremendously giving nature. The recipients of this award represent this kind of overall selfless spirit.
Nominations
Nominations for the Lalonde "Spirit of the Seas" award open in September and is awarded at the National Annual General Meeting the following spring.
The Lalonde "Spirit of the Seas" Award is the Council's most distinguished honor. The award is made annually or as deemed appropriate by an Awards Committee comprised of the National's five Regional Vice Presidents and Ex-Officio National President.
Nominations are open to any member, living or deceased, for all of the following: humanitarianism, professionalism, seamanship, life-time achievement and noteworthy accomplishments, along with contributions to the maritime industry and the 'Spirit of the Seas' in their everyday lives. An eligible nominee may be a member in any category of the CAMM National organization in good standing (who is/was current in their dues to CAMM National and to their chapter, if they were also chapter members). Individuals must be nominated by a CAMM National member who also is in good standing.
Mail six copies of your nomination form (along with six copies of supports, if any) to:
Captain R.J. Klein
4675 144th Pl SE
Bellevue, WA 98006-3156
For additional applications, information or guidelines and rules, contact your Regional Vice President or your Chapter President.
All nominations must be postmarked by January 15
Winner Notification and Acceptance
The winner will be notified in advance by the Lalonde Review Committee. If nominee is the winner, he/she must make every effort to attend the annual meeting Awards' Dinner. Because of the prestigious nature of this award, the winner's Chapter should be an enabler to encourage and assist winner to be present to receive the award in person. If because of poor health, the winner can't attend please list their designee (show name & ID number) who will accept the award in their behalf.