2014 Recipient Captain Don Moore, Jr.
Captain Moore (#1513-L) graduated from the United States Merchant Marine Academy in 1964. He served in all licensed deck officer ratings, becoming Master with American Mail Lines in 1974. He was selected as permanent Master with American President Lines in 1974 where he remained for 27 years until he retired from the sea in 2000 as Senior APL Master. Captain Moore would have been the "Commodore of the APL Fleet" but APL discontinued officially naming their Senior Captain as Commodore after they demise of the APL Passenger Ships.
For 28 years Captain Moore safely navigated his ship(s) around or through typhoons in the Far East and through winter storms in the North Pacific. While the Winter North Atlantic has a reputation for violent storms, the North Pacific easily matches it with the added challenge that a Pacific crossing can be three times the distance of an Atlantic crossing.
Captain Moore had an unblemished record while handling his ship(s) in some of the most congested waters in the world. He navigated and maneuvered his ship(s) through heavy traffic along the Japanese Coast, including through the western portion of the Inland Sea and Bungo Suido as well as the Tsugaru Straits. The same challenges were present when traveling the Taiwan Straits and at the approaches to Hong Kong.
In the early 1990s Captain Moore worked with Captains Ed Mandin and John Murk from APL and a professor from the University of California Berkley to help develop a computer based ships weather routing system. This successful program, known as "Ocean Routes," made it possible for the master to view up-to-date weather models and chose the best routing for his ship at any given juncture of the voyage. This program was the forerunner to the weather programs being used on the majority of merchant ships today.
After he retired, Captain Moore became an instructor at the Pacific Maritime Institute from 2001 to 2009 where he taught classes in Morse Code/Flashing Light, Bridge Team Management, Dry Cargo Handling and Radar.
Captain Moore was the driving force in starting the Seattle Pacific Northwest Chapter of CAMM in 1981. He served as the Seagoing President until 1983 when the chapter became well established. Since 2003 he has served as the chapter's Treasurer and on a variety of committees.
In 2006 Captain Moore was appointed CAMM National Secretary/treasurer Pro-Tem. During that time CAMM began transferring its membership and financial records from paper to a modem computer data base. This was a large undertaking and was successfully completed by 2008, when he was officially elected Secretary/Treasurer and served in that capacity until 2012. He has also served at the national level for CAMM as both First Vice-President and as Second Vice-President.
History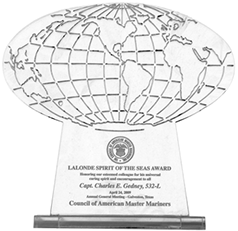 The Father Maurice Lalonde Spirit of the Seas Award is the highest honor that the Council of American Master Mariners can give its members. It is named for one of our members, Captain/Father Maurice Lalonde. Father Lalonde, in his early career, graduated from the New York State Maritime Academy and served as a Naval Officer in WW II. He then went back to sea as a civilian mariner, sailing in all deck officer billets, including Master Mariner. He then came ashore and studied for the Catholic priesthood. After his ordination, he went back to sea for awhile and donated his salary to his priestly order. He again returned ashore and spent most of his remaining career as a foreign missionary. He obviously is a man of a tremendously giving nature. The recipients of this award represent this kind of overall selfless spirit.
Nominations
Nominations for the Lalonde "Spirit of the Seas" award open in September and is awarded at the National Annual General Meeting the following spring.
The Lalonde "Spirit of the Seas" Award is the Council's most distinguished honor. The award is made annually or as deemed appropriate by an Awards Committee comprised of the National's five Regional Vice Presidents and Ex-Officio National President.
Nominations are open to any member, living or deceased, for all of the following: humanitarianism, professionalism, seamanship, life-time achievement and noteworthy accomplishments, along with contributions to the maritime industry and the 'Spirit of the Seas' in their everyday lives. An eligible nominee may be a member in any category of the CAMM National organization in good standing (who is/was current in their dues to CAMM National and to their chapter, if they were also chapter members). Individuals must be nominated by a CAMM National member who also is in good standing.
Please email your nomination form with supporting documents, if any to:
Captain Tim Brown
captbrown@mastermariner.org
For additional applications, information or guidelines and rules, contact your Regional Vice President or your Chapter President.
All nominations must be postmarked by January 15
Winner Notification and Acceptance
The winner will be notified in advance by the Lalonde Review Committee. If nominee is the winner, he/she must make every effort to attend the annual meeting Awards' Dinner. Because of the prestigious nature of this award, the winner's Chapter should be an enabler to encourage and assist winner to be present to receive the award in person. If because of poor health, the winner can't attend please list their designee (show name & ID number) who will accept the award in their behalf.